Back in the MCU – Spider-Man: Homecoming review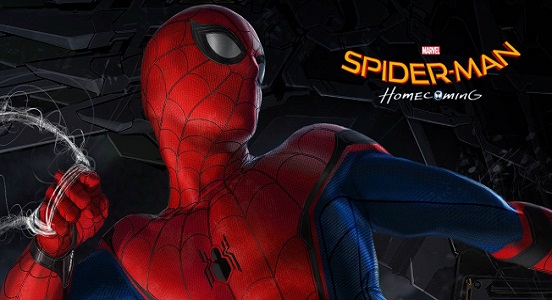 Spider-Man returns to our screens and to the Marvel family, following his appearance in Captain America: Civil War, we now have his first main starring role in the Marvel Cinematic Universe. This movie does work as a stand-alone and doesn't advance the overall MCU storyline as much as other editions in this franchise, which surely is to the film's advantage. Spider-Man is one of the most popular comic book characters of all time, his merchandise sales outstrips pretty much everyone and this movie is expected to make a fortune, so it's no surprise that Marvel and Sony eventually managed to work out a deal to get Spidey back to the big screen.
Homecoming is directed by Jon Watts, who only has a couple of films under his belt and does not have much box office pedigree to boast of, but directs with assurance, particularly with the comic and high school-based parts of the movie. This film does spend quite some time on Peter Parker's high school life. His school cohorts include, best pal Ned, played by Jacob Batalon, the girl he has a crush on, Liz (Laura Herrier), as well as Michelle played by Disney starlet Zendaya and even a re-imagined Flash Thompson (Tony Revolori) shows up. These scenes do work well, especially contrasting with Peter's extra-curricular activities, sneaking out of school to fight crime and begin his superhero journey.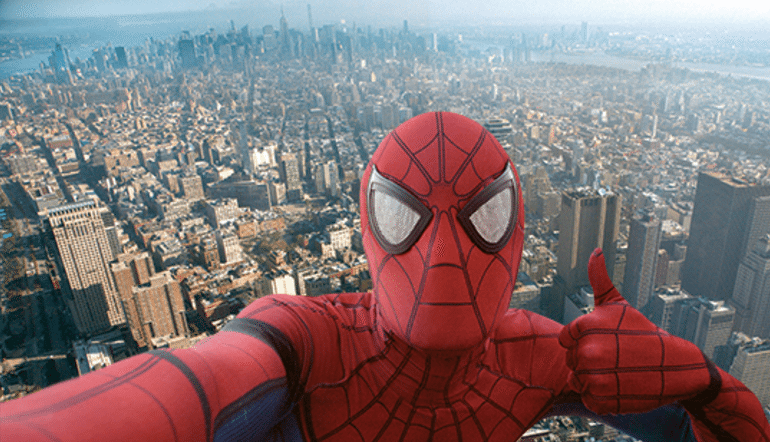 The premise of this film is that our dual-identity hero is excited after having his initial interactions with The Avengers and is eager to do more. However, Tony Stark/Iron Man believes that Peter isn't yet ready for the big leagues, and so Spidey is relegated to just being 'a friendly neighborhood Spider-Man'. Peter is having fun using his powers, as well as taking selfies and seeing videos of his exploits posted online – and seeing the reactions of his school buddies. Peter still wants to become a fully-fledged Avenger and prove himself, so he begins investigating when powerful weapons not from this planet begin showing up all over New York.
This brings us to the main villain of this piece, Adrian Toomes/Vulture, played by Michael Keaton. Angry at Stark Enterprises, blaming them for his construction business falling apart, Toomes decided to capitalize on some recent finds. One of his construction jobs discovered some Ultron-level alien technology, which Toomes begins collecting more of from other battle-sites and then embarks on a black market weapons business. Keaton makes an excellent villain, making his character's motivations understandable – the key to any good villain – but also giving him a real sense of danger. The other bad guys in this movie, include some very good actors: Michael Chernus, Logan Marshall-Green and Bokeem Woodbine (who I loved in season 2 of Fargo).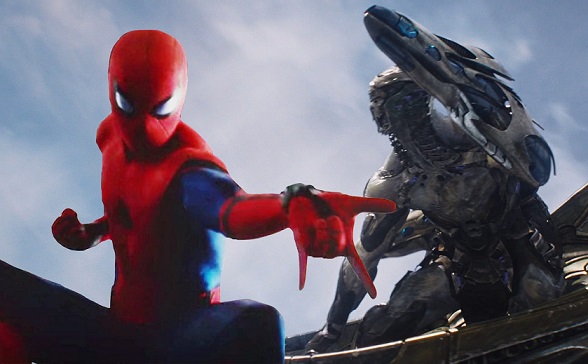 Spider-Man is enjoyable throughout, Tom Holland is great as the teenage Parker, Robert Downey Jr s good in his scenes and the rest of the supporting cast is also interesting to watch – although maybe a little over-crammed as some only get limited screen time, but Donald Glover, Hannibal Buress and Martin Starr do well in the scenes they have. Homecoming is one of the funniest Marvel film, and the usual Spider-Man sense of humor does fit well with the MCU style. Seeing six names on the writing credits, might ring some alarm bells before watching the movie, but the film does not feel disjointed and the script feels sharp and serves the story well.
The action scenes are pretty good, there are some excellent set pieces – especially the Washington monument sequence and the passenger ferry splitting apart scene. The finale scenes on the airplane are a little over frenetic, overall however this movie avoids the incoherence that some modern action scenes can fall into. Definitely worth a watch, I must say I still prefer the first two Sam Raimi Spider-Man movies, but Homecoming makes a great for this character and an enjoyable addition to the MCU.