A new trailer for The Defenders was aired at San Diego Comic-Con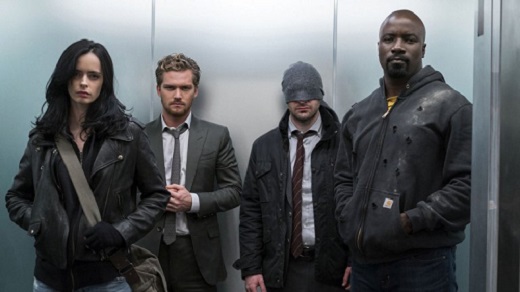 The new trailer for The Defenders was unveiled by Netflix at San Diego Comic-Con. The trailer was followed by a panel that included almost all the main cast, producer Jeph Loeb and showrunner Marco Ramirez.
What did we learn? Well, major new plot details were revealed for the very first time. Episode 1 will begin where the respective last seasons for each crossover character left off. Matt Murdock has retired from being Daredevil and is now back changing the world as a plain old lawyer.  While Luke Cage is now out of prison thanks in no small part to Murdock's buddy Foggy Nelson. Cage hooks up again with Claire. Jessica Jones is back doing what she does best drinking to heavily and becoming embroiled in cases she knows she should stay away from. The most recent show was Iron Fist and fans did not need to wait to long for some form of resolution to season 1's finale. Danny Rand is back from the missing Kun Lun and is tracking down The Hand with partner in crime Colleen Wing.
The trailer also showed us more about what we can expect from the series villain Alexandria (Sigourney Weaver). The character apparently has a terminal illness and is working with Madame Gao and a freshly resurrected Elektra. In the first episode Alexandria sets into motion the dastardly scheme that ultimately brings the Defenders together,
It was great to observe the returning characters from across the four universes who will be making an appearance. We already knew that Karen and Foggy would be back, but Misty Knight (Simone Missick), Bakuto (Ramon Rodriguez), Trish Walker (Rachel Taylor) and Malcolm (Eka Darville) and Jerri Hogarth (Carrie Anne Moss) are all back.
The Defenders will finally be released on August 18, with all 8 episodes available on Netflix. It still has all the hallmarks of being an awesome season.