Preview of Star Trek: The Next Generation: Mirror Broken #1
New from IDW Publishing is a Star Trek: The Next Generation title – which is set in the mirror universe –  a place where everything is reversed so good characters are evil and the Federation itself is rooted in tyranny. This concept of a mirror universe, featuring evil versions of the noble captains we have come to know, began with The Original Series and episodes have been included in all the television iterations of Star Trek since, Deep Space Nine, Voyager, Enterprise and of course: The Next Generation. The writers always have a lot of fun with this scenario, as it allows them to explore different dimensions of beloved characters and make them do sinister things they would never be allowed to get away with in the regular universe we all know and love.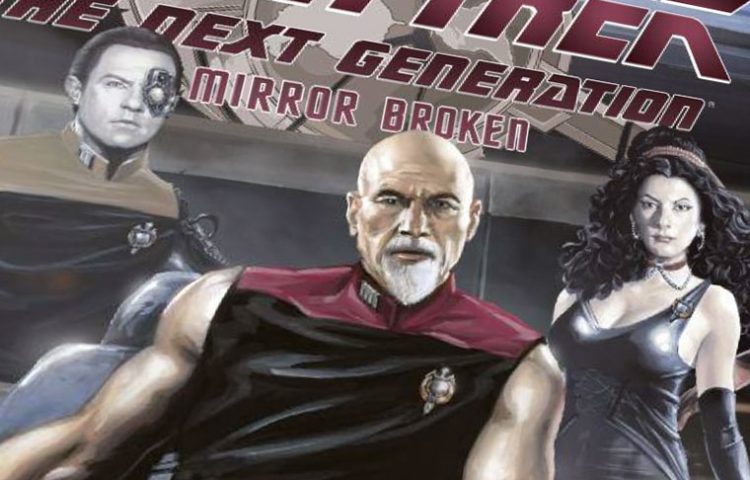 A press release from IDW for this title, reads:
"The Star Trek mini-series event of the year kicks off! Captain Jean-Luc Picard will stop at nothing to get his hands on the Empire's newest warship, the ISS Enterprise, be it lies, deception…or murder. With enemies and allies around every corner, Picard's quest to help the Enterprise and restore the Empire to glory will not be an easy one. Good thing he has a crew onboard who will also stop at nothing to ensure total victory — at any cost."
Sounds intriguing and I'm sure it will be interesting to see Picard as a different man – not the moral, honorable character we usually see him as, although it might be traumatising to some to see the personification of Star Trek's pro-humanist message, committing acts of skullduggery. The writer for this series is Scott Tipton and the artist is J K Woodward who also provides the cover art. There are also variant covers available, from George Caltsoudas, Joe Corroney and Adam Rosenlund. It is a six issue series and is out now, published on May 10th by IDW.