Review of Marvel's new release: Secret Empire #1
Writer Nick Spencer and artist Steve McNiven bring us Secret Empire #1, which we have seen the set up to in Secret Empire #0 and Captain America: Steve Rogers,  so this story begins with us right in the action – several months after the events of Secret Empire #0. Hydra has launched a successful, widespread attack against the forces of good, they are now the ruling power – and the big news is, of course, Captain America has turned bad. Can the Avengers fight back against Hydra's new world order?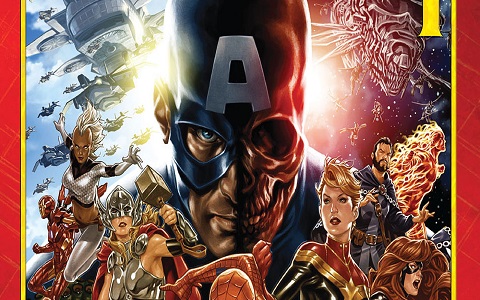 So what is going on with Cap? Well Steve Rogers continues his descent into villainy, which is a hard thing for a lot of people to see. Captain America is currently very popular for the pro-freedom and innate goodness we see with his character in the movie trilogy – maybe the most successful comic book based trilogy that exists. So this storyline in the comics doesn't sit well with a lot of people, is Steve being mind-controlled in some way… possibly Cosmic Cube related? Many fans believe this is the case, and there are a few things shown to support this, but we won't spoil those here. How will Spencer and McNiven redeem Captain America and will it be a cop out ending? That is something I am already wondering about after issue #1 – and how this series will be ultimately received, will depend on how the creators deal with this character arc.
There is a feeling of dread in the events depicted, like things might even get worse, this tragic quality is a facet of storytelling that Marvel is sometimes criticized for lacking. Especially in these occasional (some say too frequent) multi-story events, which set up potential for disastrous consequences for our heroes but don't always follow through with, or the central conflict is resolved with a lack of lasting effect. Whether you agree with this this criticism of Marvel's events or not, in this story Hydra has spread it's tentacles throughout America, is very much in control and it's the good guys who are trying to do the usurping – something which makes it feel like the premise of this story is not hype that won't actually deliver on it's promises.
Secret Empire is having a serious impact on the Marvel Universe and this is a pretty dark storyline, one which perhaps looks to reflect, and comment on, current political situations in the real world – something which comic books have always sought to do. This is achieved fairly well here, leaving the reader with something to think about, without beating you over the head with an opinion. Parts of this issue are viewed from the perspective of a young boy, who is not fooled by the Hydra regime and how his world has changed. This was a nice touch by Spencer, viewing this takeover through innocent eyes, makes the failures of the adults who failed to confront this danger more apparent. Amidst the drama, however, there are scenes of fun, a few laughs and some romance on display here too, which does work well to counterpoint the more despairing parts of the plot.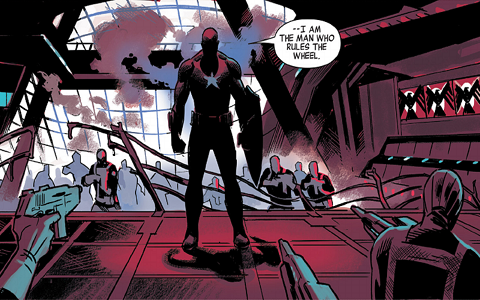 I enjoyed the work done here by artist McNiven, along with colorist Matthew Wilson and inker Jay Leisten. Right from the start, the portrayal of America, conquered by Hydra and the aftermath, showing a cowed, but peaceful society, provides a subtle, very dark underpinning as the story unfolds.  The depictions of Steve Rogers conspiring with his Hydra head honcho counterparts are also unnerving and for a Cap fan, not a joy to see, but certainly have artful foreboding.
Overall, it's a great issue #1 and I am looking forward to the remainder of this series, the storyline has moments which I would rather not see, but it definitely has impact. With this event, I do feel the effect it is having on the Marvel Universe, it is setting the scene perfectly and this issue brings the story forward. Hopefully, this is one major, super-special, epoch defining Marvel event which will deliver and have a lasting impact on it's characters and the world they inhabit.
Secret Empire #1 is available now, published by Marvel Comics