Marvel Comics: Peter Parker: The Spectacular Spider-Man
This is the return of your friendly neighborhood Spider-Man, courtesy of writer Chip Zdarsky and artist Adam Kubert. From a new Marvel press release:  'The webslinging, wallcrawling wonder returns to New York City in the all-new Peter Parker: The Spectacular Spiderman. A companion series to the best-selling Amazing Spider-Man series, Peter Parker is going back-to-basics for big heroics in the Big Apple. Featuring adversaries old and new, and his never ending battle against crime and the dreaded Parker Luck.'
Marvel's main Spider-Man title, The Amazing Spider-Man is dealing with Peter Parker's world spanning adventures, and as the Marvel blurb suggests, this Spectacular Spider-Man series will keep Peter in New York and focus on his crime-fighting escapades in his home turf.
The 'Spectacular Spider-Man' title goes back to 1968, and it has generally been seen as a companion series to the flagship 'Amazing Spider-Man' title. It has gone through several incarnations through the years – and also courted some controversy from fans, especially with the 'clone Spider-Man' storyline, which suggested that the Spider-Man depicted for the last twenty years had actually been a clone of the real Spider-Man (Marvel later reversed this in official canon).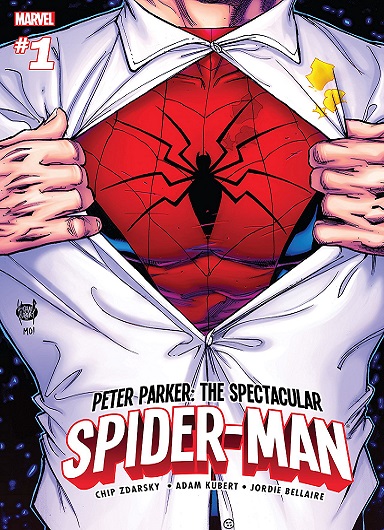 And what can we expect from this latest Spider-Man incarnation? Writer Chip Zdarsky, gave an interview to Entertainment Weekly:
"Spider-Man is kind of like when you're a kid and you go to camp or a new school, and you think, "I can be a new person here," but you invariably end up with the same problems because you're still, you know, the same person. Peter can be having a crummy time of things, put on his Spider-Man outfit and feel like he can do anything. But inevitably his "Parker luck" spoils things, even as Spider-Man. And part of the fun of the character is seeing how he gets out of the holes he digs for himself. There are still periods where one is doing better than the other and I've always loved that aspect of secret identities. Peter could get a new job, a new girlfriend, but Spider-Man is accused of a crime and is public enemy number one. That's the fun of Spider-Man, you're playing with the outside perception of two characters."
Zdarsky is often a humorous writer, so we could be expecting the fun, wise-cracking Spider-Man we all love and the nerdy Peter Parker and from the quote given, Zdarsky is going to have a lot of fun with the dual nature of the character.
There are ten variant covers for this issue, two from interior artist Adam Kubert, one blank, one movie version and the other six from artists, John Cassaday, Ross Andru, Zhang Wang (Year of the Rooster variant), Sam Spratt (Hip Hop variant), John Tyler Christopher and Mike Deodata Jr. Issue #1 is available from June 21st.