Bloodshot Salvation #1 from Valiant with Brushed Metal Variant cover
Valiant are promising a new 'bloody and vengeful era' for the Eisner Award nominated Bloodshot series, with Bloodshot Salvation hitting stores this fall. This saga comes from New York Times best-selling author Jeff Lemire, along side artists Lewis LaRosa and Mico Suayan – all of whom previously worked on Bloodshot Reborn.
In a media release, Valiant revealed some intriguing details concerning the plot of this title:
"Ray Garrison escapes his violent past to build the one thing he never thought he'd earn: a family. But when a hateful secret from his true love's past threatens their fragile peace, Bloodshot will be forced to run headlong into a barrage of blood, bullets, and broken bones for a revenge-fueled assault that will have crushing consequences for those he holds most dear…"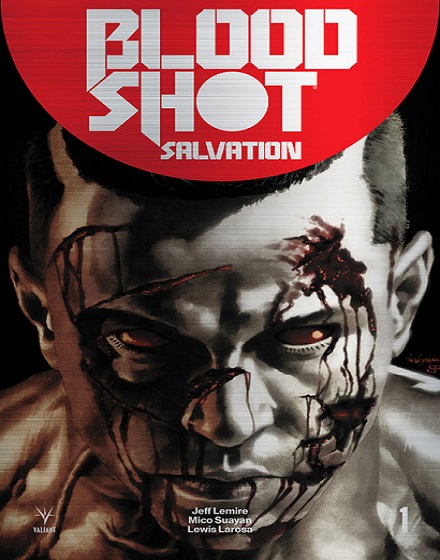 It seems Garrison won't be alone in this fight, "In the arms of his beloved girlfriend Magic, Bloodshot has finally found hope for the future…in the form of the couple's unborn child. But when Magic's estranged family – a cruel and sadistic clan of homegrown criminals – re-emerge to lay claim to their lost daughter, Bloodshot will be pushed back to the brink of madness, mayhem, and warfare."  – and Ray's daughter has inherited her father's abilities, but must hone these skills in order to survive as the world descends into darkness.
Bloodshot Salvation #1 will featuring covers by Kenneth Rocafort (The Ultimates), Monika Palosz (Divinity III: Stalinverse), Tomas Giorello (X-O Manowar), Ryan Bodenheim (The Dying & The Dead), Greg Smallwood (Moon Knight), and Dave Johnson (100 Bullets). Valiant is also unveiling a Brushed Metal Variant cover, which will be adorning the first issue of the series – this will be only the second metal cover ever produced by Valiant Entertainment and comes printed via a special process on an actual brushed aluminum metal sheet featuring artwork by interior artist Mico Suayan. This will be limited to one copy per qualifying and a store has to order a minimum of 250 Bloodshot Salvation #1 copies to be considered.
Valiant is also making available a pre-order bundle to reward fans who make an order before July 27th. Those who reserve the Bloodshot Salvation 1-12 Pre-order Edition Bundle, will get eight additional pages of expanded bonus content, with extra features such as behind-the-scenes looks at comic creation, character designs and artwork and creator commentary. As an added bonus, the pre-order fans will also receive the Bloodshot Salvation #1 Rampage Redux, a limited edition comic book, free with the bundle. There is no additional cost for this bundle, but the 1-12 issue pre-order collection must reserved with your local comic shop by this initial order date, of July 27th.
Bloodshot Salvation #1 is on sale from September 20th. Check out the added features for pre-ordering the whole series by the end of July at ValiantEntertainment.com.