Justice League and Suicide Squad #4 preview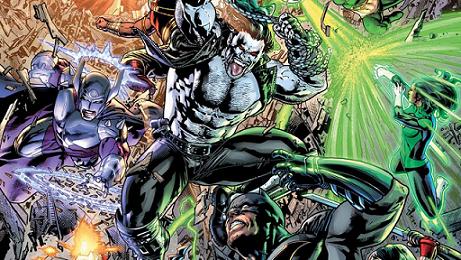 In issues 2 and 3 a picture was slowly building the intentions of Max Lord and his team. The pitching of the Justice League and Suicide Squad into battle has been covered and now we are finding out more about the Nightmare Team of Emerald Empress, Lobo and Doctor Polaris. We can assume that the behind the scenes scheming of Max Lord will now be taking center stage. Joshua Williamson, the writer of the miniseries, took a step back from the full on action sequences in issue #3 for some character development. In the next issue we can expect a return to the faster paced style and epic battle sequences.
In issue #4 the action switches to Belle Reve prison, where the Nightmare Team comes head to head with the coalition of Justice League and the Suicide Squad. Amanda Waller is in danger as Max Lord has taking revenge against the Task Force X Director firmly in his sights.
The newer Justice League members are receiving sufficient page time, but hopefully Joshua Williamson and Fernando Pasarin will reveal more about these characters in the upcoming chapters. These characters will eventually become new full time members of the Justice League, so center stage action for the story arcs is something that audiences are interested in.
Justice League and Suicide Squad #4 will be published on January 11, 2017.