Call of Duty: Zombies issue #2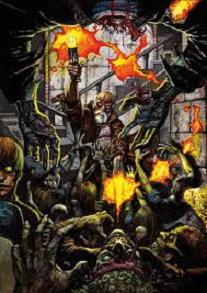 The second issue of the Dark Horse comic lands in comic book stores next week. Stuhlinger, Russman and Marlton continue with their struggle for survival against the zombie hordes. Treyarch, the creators of the Call of Duty video game, and Dark Horse Comics decided to collaborate in this spin-off series, which is an adaptation of the Call of Duty: Zombies game. The comic book is written by Justin Jordan (Green Lantern) and illustrated by Jonathan Wayshak (Halo, Devolution).
The plot is an extension of the Call of Duty: Black Ops III Zombies concept. In issue #2, the Tranzit crew winds up at the headquarters of Russman's old organization: Broken Arrow. Trapped between a never-ending horde of zombies outside and lab-grown monstrosities inside, Stuhlinger, Misty, Marlton, and Russman learn that they'll have to work together if they want to make it out alive. Dark Horse are promising some never-before-seen moments in the Zombies timeline.
The story for the comic book was created by Black Ops III Zombies game director Jason Blundell and the studio's lead writer Craig Houston. The authenticity to the video games comes through very strongly. The covers  are designed by Eisner award winning artist Simon Bisley (ABC Warriors, Lobo).
Call of Duty: Zombies issue #2 will be available in comic book stores from 11th January.