Planet of the Apes/ Green Lantern #1 crossover in the works from DC and Boom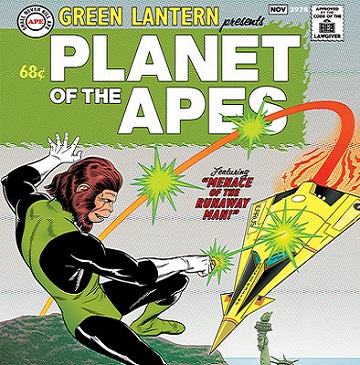 A crossover feature combining some favorite characters in an epic adventure is in development. The two celebrated pop culture franchises in this comics crossover event are the Green Lantern Corps and the Planet of the Apes. After a Green Lantern Ring which is searching for someone who is without fear lands on the Planet of the Apes it kickstarts an adventure. DC and BOOM! Studios are collaborating to bring this project to the comic pages. The miniseries is being written by Robbie Thompson (Silk) and Justin Jordan (Green Lantern), and illustrated by Barnaby Bagenda (The Omega Men). Will Cornelius end up becoming a Green Lantern?
The story begins with events on Planet of the Apes, when Taylor goes missing, Cornelius investigates and discovers an ancient ring, unlike anything he has ever seen. As its power echoes through the stars, the Guardians of the Universe must reveal to their Lanterns a secret they had hoped would remain buried. With the Green Lantern Corps, led by Hal Jordan, racing to get to the source of this power before Sinestro can get his hands on it, they will discover a truth that will change them forever on the Planet of the Apes.
DC and BOOM! Studios have stated that a host of characters from the Planet of the Apes and Green Lantern will be integral to the storylines. It's definitely a miniseries that will serve up some fan-friendly sequences.
Planet of the Apes/Green Lantern #1 will be available in comic book stores and all major digital marketplaces on February 1, 2017. The cover to issue #1 is illustrated by Ethan Van Sciver, the celebrated Green Lantern artist. Variant covers are being provided by  Steve Morris (Buffy the Vampire Slayer), Paul Rivoche (Batman '66), Felipe Massafera (Wonder Woman) and others.