Guardians of the Galaxy spin off: I Am Groot #1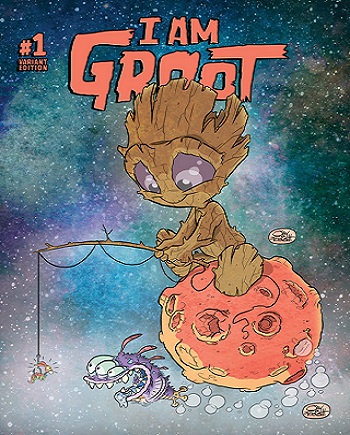 Groot, the living tree, and popular character from the Guardians of the Galaxy is starring in his own solo comic title, beginning on May 24. We are talking about Baby Groot as seen in Guardians of the Galaxy Vol. 2. Writer Christopher Hastings and artist Flaviano are behind the project.
After getting caught in a wormhole Groot is separated billions of light-years away from the team. Falling to a planet below, Groot discovers he is on an entirely alien and unknown world full of strange creatures and societies. Seriously underdeveloped and with nobody who can understand him, Groot will need to make the journey to the center of this world and find the way back to his family
With the popularity of the Guardians of the Galaxy movie a franchise a spin-off for Groot was inevitable. Star-Lord, Gamora and pretty much the entire Guardians line-up now feature in stand alone series.
I Am Groot #1 will be published by Marvel Comics on May 24th.