Defenders #1 from Marvel Comics is building to the Netflix TV show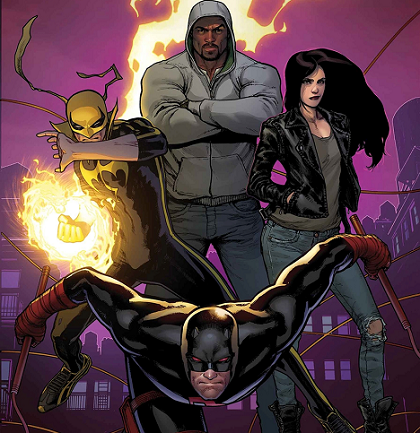 Brian Michael Bendis and David Marquez are bringing us this new superhero-team, in preparation for the Marvel-Netflix TV show, which will be airing this August. The Defenders team has occurred semi-regularly in print since the 1970s, but this line-up of Daredevil, Luke Cage, Jessica Jones and Iron Fist is brand new.
Individually, these four heroes have been on the front lines of the battle to keep the streets of the city safe and secure! But now, with a deadly enemy from the dim past making a major move to unite the underworld, they will need to become more – they will need to become Defenders!
The original 1970s team of Hulk, Doctor Strange, Silver Surfer and Namor will sadly be absent. That sounds like a cool line-up, but after the very well received Netflix TV shows and the recent Marvel stand alone comic titles, audiences probably would rather read about Daredevil, Jessica Jones and co.
Defenders #1 will be published by Marvel Comics on June 14th.