Daredevil: 2nd season release!
The second season was launched by Netflix on March 18th. This second instalment delivered a showcasing of a host of new Marvel icons that included "The Punisher" and "Elektra". We were certainly enthralled by the iconic contests from the protagonists and the fast pace of the action. Matt Murdock (Daredevil) experienced his toughest assignments to date with his crime fighting talents tested to their limits.
A new player in town is turning up the heat by taking on the toughest gangs in the city. A more ruthless vigilante with clearly different methods of fighting crime and less moral reservations joins the action, Frank Castle (Jon Bernthal) also known as the Punisher. With mystery surrounding the identity behind the elusive fugitive, Daredevil himself is roundly condemned by Hells Kitchens inhabitants as a dangerous villain.
An altogether grittier environment was created in Hell's Kitchen, building on the first season, but elaborating more on a self-destructive and sometimes dispairingly unforgiving city. Daredevil's world is populated with warring underworld criminal gangs, corrupt public officials and forever rain soaked, darkened streets.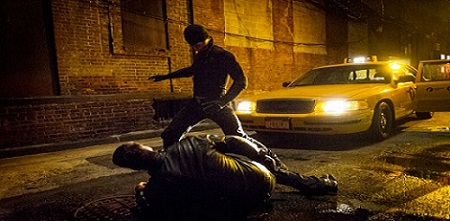 Charlie Cox returned as Matt Murdock. Fans of Season One will be pleased that Foggy (Elden Henson) and Karen Page (Deborah Ann Woll) remain as series regulars. All are excellent, with Charlie Cox believably portraying a man struggling to retain his public identity as a somewhat respected lawyer, while simultaneously refusing to stand down from his self-imposed obligation to protect the city. His screen time with Frank Castle vividly dissects this internal conflict, as Jon Bernthal's Castle berates Murdock for his desire to inflict minimal harm and refusing to kill anyone.
Elektra Natchios (Elodie Yung) is another ambiguous figure, comprising a former girlfriend love interest and convenient crime fighting ally to Matt Murdock, while pursuing her own devious agenda. Elodie Yung brings a thresh energy to the proceedings, in contrast to the brooding intensity of Daredevil and the Punisher.
No spoilers will be uttered on the season finale rest assured, but the cliff-hanger ending was intriguing and sets up smartly a third season.