Han Solo Comic in new Star Wars universe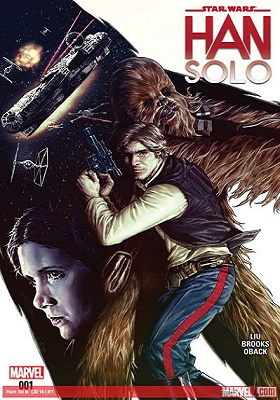 Disney's acquisition of Lucasfilm and the Star Wars franchise, has given the company a whole universe of material to make use of and it is clear Disney intends to get its money's worth. They have plans featuring original characters and old favourites across multimedia platforms, including the films, video games, novelizations and of course comic books. Given that Disney already owns Marvel, comic books seem the ideal platform for the new Star Wars license-holders to venture into, and indeed there are several projects planned.
This month sees the release of the first issue of the Han Solo comic, there are also plans for a movie featuring this character's early years, but we won't be seeing that for a while, as two other Star Wars films will be released before that one.
Han Solo #1 is written by Marjorie Liu and well known cover artist Mark Brooks makes his return to interior art for this issue. Both Liu and Brooks are known for their work on X-Men projects and bring an interesting, fresh perspective to the work. The press release by Marvel for the upcoming publication reads:
"Everyone's favorite scoundrel gets his very own series! Han is given a top-secret undercover mission for the rebellion – rescuing a number of informants and spies. His cover for the assignment? Only the biggest and most infamous starship race in the galaxy… the race Han has dreamt of winning his entire life."
Sounds interesting. Comics featuring other popular Star Wars characters, Luke Skywalker, Princess Leia and Darth Vader, among others, are being published by Marvel. Han Solo #1 is published June, 15th and is available in stores and by digital download.