Suicide Squad: News on Comic Releases
DC has announced plans for a series of Suicide Squad comic book releases to coincide with the release of the movie this summer. The buzz for the film has been increasing following several trailer releases and in turn this has boosted interest in the comics.
In a press release, DC Entertainment revealed that we will see "the return of the worst heroes ever in an action-packed quartet of SUICIDE SQUAD tales", including a new Suicide Squad main title, writer John Ostrander returns after a decade with a new Task Force X one-shot and a new cast of characters debuting in the SUICIDE SQUAD: MOST WANTED anthology. The comics will be available from the beginning of August, with the release dates staggered over the rest of that month. The full schedule is as follows:
SUICIDE SQUAD: REBIRTH #1                                                                                                                                               Written by ROB WILLIAMS • Art and cover by PHILIP TAN and JONATHAN GLAPION • Variant cover by AMANDA CONNER – On sale AUGUST 3
Soldier. War hero. Traitor. Captain Rick Flag was one of America's greatest military commanders before he was banished to a secret military prison. But after years of isolation, Flag's life changes forever when a woman called Amanda Waller offers him redemption in exchange for taking on the single most dangerous job in the entire DC Universe: keeping the Suicide Squad alive!
SUICIDE SQUAD MOST WANTED: EL DIABLO AND BOOMERANG #1                                                                   Written by JAI NITZ and MICHAEL MORECI • Art by CLIFF RICHARDS and OSCAR BAZALDUA • Covers by MIKE HUDDLESTON – On Sale AUGUST 10
SUICIDE SQUAD MOST WANTED: EL DIABLO AND BOOMERANG #1 begins a new monthly six-issue mini-series featuring a lead story starring El Diablo written by Jai Nitz and a series of shorter second features by writers graduating from the just-completed inaugural class of DC's Writers Workshop.
"a sudden pardon frees the fiery El Diablo from Belle Reve prison, much to the shock (and irritation) of team leader Amanda Waller. Chato returns to his old neighborhood to reunite with his family, but when he's attacked by a heavily armed local gang and their leader, the deadly, super-powered Bloodletter, will his freedom and his life get cut dramatically short?"
In addition to this, there is a first chapter of a two-part tale: Boomerang and the Squad embark on a mission to take down a ruthless dictator within a small, unstable Central American nation, but when the mission goes awry, the Squad must jump in a helicopter and flee as all hell breaks loose. But amid the chaos, the team realizes one of them was accidentally left behind: Boomerang! How can he stay alive long enough to be rescued when a whole army wants him dead?
Issues 3-4 of Most Waned will feature Killer Croc (SUICIDE SQUAD MOST WANTED: EL DIABLO AND KILLER CROC) by Chris Sebela and issues 5-6 will feature Amanda Waller (SUICIDE SQUAD MOST WANTED: EL DIABLO AND AMANDA WALLER) by Vita Ayala.
SUICIDE SQUAD #1                                                                                                                                                                   Written by ROB WILLIAMS • Art and cover by JIM LEE and SCOTT WILLIAMS • Variant cover by LEE BERMEJO – On sale AUGUST 17
"The Black Vault" part one! When a mysterious and definitely super-important cosmic item falls out of the heavens and into enemy hands, America has only one option: Task Force X, Amanda Waller's strike team of incarcerated super-criminals. A one-stop-shop for plausibly deniable espionage and ultra- violence, this "Suicide Squad" only handles missions they're not expected to survive. An insane new era of SUICIDE SQUAD begins here with superstar artist Jim Lee and red-hot writer Rob Williams (UNFOLLOW, MARTIAN MANHUNTER).
SUICIDE SQUAD: WAR CRIMES SPECIAL #1                                                                                                                       Written by JOHN OSTRANDER • Art by GUS VAZQUEZ • Cover by JUAN FERREYRA  – On sale AUGUST 31
When a retired American politician is taken to Europe and tried for alleged war crimes, the USA must recover him from an allied nation before terrible truths are revealed. Enter the Suicide Squad, who storm the Hague itself to save America from her own dark secrets. The writer who started a revolution, John Ostrander returns to the Suicide Squad for the first time in a decade to tell one of his boldest and bloodiest stories ever.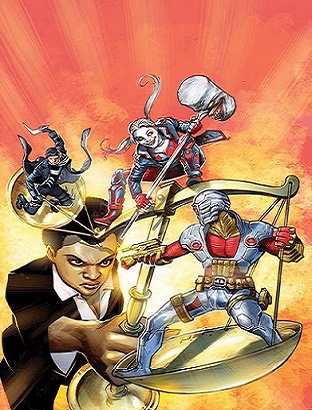 SUICIDE SQUAD: WAR CRIMES SPECIAL #1