Overwatch digital comic published by Blizzard
One of the most highly anticipated games of the year, Overwatch is a highly stylized team-based shooter set on a near-future earth. Every match is an intense multiplayer showdown pitting a diverse cast of heroes, mercenaries, scientists, adventurers, and oddities against each other in an epic, globe-spanning conflict.
To coincide with this release, game publisher Blizzard Entertainment is issuing a series of digital comic shorts that further illuminate the characters and world of Overwatch. The first edition of the series, 'Train Hopper', follows a day in the life of gunslinging outlaw Jesse McCree, a former Blackwatch operative, who metes out his own brand of vigilante justice.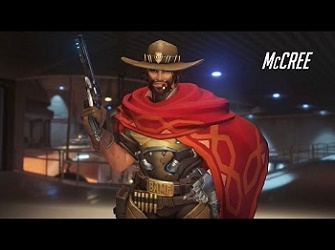 Written by Blizzard's own Robert Brooks and illustrated by Bengal, the story focuses on McCree as he hitches a ride on a hypertrain to Houston in the hopes of skipping town and laying low for a while. But soon after the engine starts, he realizes his trip is going to be anything but "low profile."
'McCree: Train Hopper' is now available to read in full at comic.playoverwatch.com. Overwatch the video game, will be available for PC, PlayStation 4, and Xbox One on May 24. To learn more about the world of Overwatch, visit http://www.playoverwatch.com