News on upcoming Batman universe Comic releases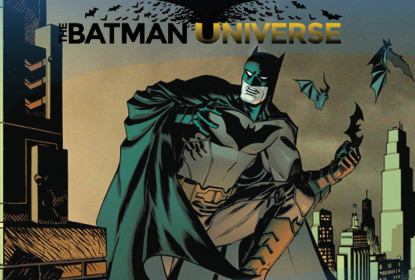 A Comic con panel at the recent event in San Diego, featured a Batman focused line up and revealed some interesting details about upcoming releases. The panel included Batman writers Scott Snyder and Tom King, along with Bat Girl and The Birds of Prey co-writers Julie and Shawna Benson, as well as Detective Comics writer James Tynion and Batman group editor, Mark Doyle.
Scott Snyder gave some details about his next project 'All-star Batman', the first story arc is called 'My Own Worst Enemy' and features Harvey Two-Face: "with Batman handcuffed to Two-Face on a cross country road trip to a possible cure for the villain, every assassin, bounty hunter, ordinary citizen with something to hide, and even a Bat-ally are chasing them down". There is an additional story written by Snyder, with artwork by Declan Shalvey, featuring a protagonist named Duke Thomas, whose place in the Bat-universe has yet to be revealed. All-star Batman #1 is out on August 10th.
Co-writers Julie Benson and Shawna Benson, who are coming over to comics after a run as writers on the CW show 'The 100', gave fans the behind the scenes look at their plans for Batgirl, Black Canary and Huntress in 'Who Is Oracle', the first story arc for Batgirl and The Birds of Prey: Rebirth, is on sale now. Tom King gave fans an update on 'I am Gotham', including the heroes Gotham and Gotham Girl coming into the story and suggested there could be a crossover with other characters, but did not reveal who. King has previously worked on Omega Men, Sheriff of Babylon and the Robin War mini-series. Batman #3 features the third chapter of 'I am Gotham' and is on sale now, Batman #4 on August 3.
James Tynion IV's debut story for Detective Comics, "Rise of the Batmen", continues Batman's plans to train a next generation of young crimefighters to protect Gotham. The story includes Kate Kane, aka Batwoman, assisting Batman in his mission. Chapter four of "Rise of the Batmen" is in the pages of Detective Comics #937, on sale from July 27.
Batman group editor Mark Doyle rounded out the panel, showing off the latest from the first crossover since the Rebirth line relaunch, "Night of the Monster Men". Guided by "showrunner" Steve Orlando (Supergirl, Midnighter/Apollo), this crossover runs through September and October in the pages of Batman, Nightwing and Detective Comics, and brings to the forefront one of Batman's oldest villains. Chapter one of 'Night of the Monster Men' begins in issue #7 of Batman, on sale September 21, with chapter two in Nightwing #5, on sale September 21 and Detective Comics #941 on sale September 28 as chapter three.
Batman universe fans have plenty to look forward to and it's interesting they are bringing in writers from outside Batman comics to continue story lines, as well as using old favorites.