Mass Effect Discovery #1 is a new comic series from Dark Horse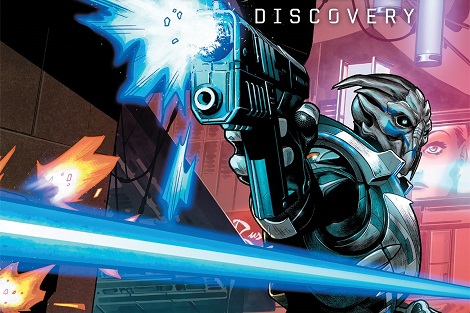 Jeremy Barlow and Gabriel Guzman are teaming up to create a new comic series that arrives hot on the heels of the release of the much vaunted video game, Mass Effect: Andromeda. This will be the latest instalment in the long running Mass Effect comics series. Mass Effect: Redemption launched the comic book series in January 2010, that edition was written by Mac Walters and John Jackson Miller.
Jeremy Barlow has scripted Mass Effect comics before (Homeworld) and clearly has an affinity for the franchise. His catalog of previous work includes Star Wars: Darth Maul and Metalocalypse. A senior writer for the video game John Dombrow will also be involved in formulating the series and ensuring continuity with the direction of the latest chapter of the video game. The art work is being created by Gabriel Guzman, who caught the eye with the Lady Death series and Cable.
The story of Mass Effect Discovery is set around a young Turian military recruit goes undercover in order to infiltrate the mysterious Andromeda Initiative-and ultimately retrieve a scientist who's made a potentially devastating discovery.
Mass Effect Discovery #1 will be released to comic book stores on May 24th. It's worth catching the new game Mass Effect: Andromeda, which is available on PlayStation 4 and Xbox One.