Halo: Rise of Atriox #1 is an athology comic collection from Dark Horse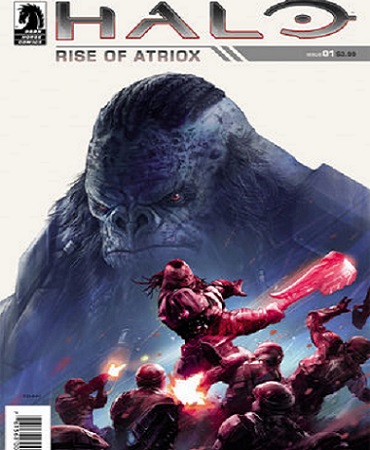 This new anthology series is inspired by the 2017 Halo Wars 2, released for the Xbox One back in February 2017. The real-time strategy game introduced a new ruthless villain, Atriox, who is central to the comic book series. A host of acclaimed comic book writers and creators are contributors to the anthology, including Cullen Bunn, Eric Nguyen, Alex Irvine, Jody Houser and Josan Gonzalez.
The synopsis of Halo: Rise of Atriox #1 is: Atriox, the legendary Brute under the command of the alien collective known as the Covenant, leads a Brute assault against a UNSC military outpost. Wave after wave of Brutes are lost attacking the human outpost defended by a group of UNSC marines, the ruthless Atriox soldiers on. As his comrades fall, Atriox's hatred for the Covenant grows.
There are five chapters in total collated in this anthology adapting the Halo Wars 2 universe. A complete this of the contributing artists is  Cullen Bunn, Jody Houser, Jonathan Wayshak, John Jackson Miller, Claire Roe, Josan Gonzalez, Tristan Jones and Alex Irvine.
Halo: Rise of Atriox #1 will be available from August 30th by Dark Horse Comics.