Elektra #1 Casino Battle Royal: The new solo series is reviewed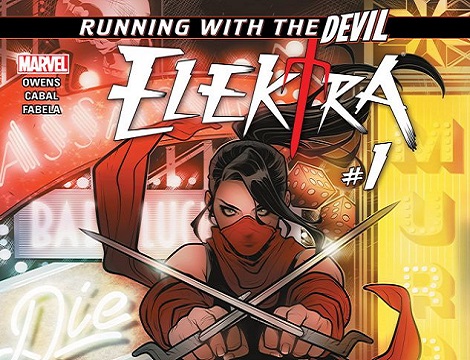 Elektra is back headlining a solo comic book series. The slinky ninja had been attempting to leave her past firmly behind her. In running from her tumultuous past, Elektra arrived in the vibrant sea of neon, noise and anonymity that is Las Vegas. Issue #1 "Casino Battle Royal" was published on February 22nd.
But, her intentions of the former ninja assassin to remove herself from the moral uncertainty that typically encompass her life prove to be very difficult. Elektra soon discovers that a new player is in town hatching a mysterious scheme, the X-Men villain Arcade. She finds out that the technologically adept villain and sometime assassin is playing a game of deadly chance in Las Vegas. The confrontation with Arcade could become very interesting as later episodes are played out.
Matt Owens is scripting the series and creates a nice pathos and timing to the developing story and the internal journey of Elektra. He captures Elektra's reluctance to return to her ninja past very well. Matt Owens is a staff writer for Marvel TV shows the Agents of Shield and Luke Cage, this issue marks his comic book debut.
Artist Juan Cabal (Wolverines) is lending his talents to the artwork. The art design and colors paint a lively picture of Elektra's acrobatic fight scenes. Befitting the character, her movements are portrayed with great balance and fluidity. In a departure, the depiction of Elektra's look chosen for this series is in continuity by the Marvel/ Netflix TV show, rather than the traditional appearance of the character.
The new series is shaping up nicely and appears to be an intriguing take on the Elektra character.  The second issue, "Electra Comes Out To Play", will be published on March 22nd.