Dishonored comic book tie in to video game series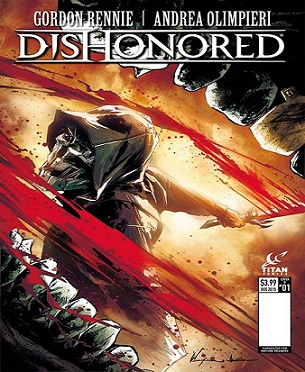 Titan Books and Bethesda Softworks have announced a multi-platform publishing partnership for Dishonored 2, the upcoming video game in the award-winning Dishonored saga by Arkane Studios. This includes three original novels, an all-new new four part comic mini-series, and a graphic novel collection that will bridge the story of events between Dishonored and the highly-anticipated Dishonored 2.
Twelve years have passed since the events of the original video game, when Corvo Attano defeated the Lord Regent's duplicitous plot against the crown and cleared his name of the Empress Jessamine's murder. Now Corvo sets his sights on the future and securing an apprentice to continue his legacy. But when confronted by an impossible face from his past, the supernaturally-gifted assassin finds himself drawn once again into an otherworldly conspiracy, one that threatens to shake the very foundations of his ancient city.
Series writer Gordon Rennie is a stalwart of the UK comic scene whose writing credits include the original series, White Trash, as well as his work for cult magazine, 2000 AD, on iconic characters and properties, including Judge Dredd and Rogue Trooper. Rennie is joined by artists Andrea Olimpieri (pencils/inks) and Marcelo Maiolo (colourist).
The first official Dishonored tie-in comic in the series from Titan Comics will release in August 2016. Three additional installments in the comic series will follow, releasing in September and October. The series will be collected together for a graphic novel, which will be available in November 2016.