DC Writers Scott Snyder and Steve Orlando unveil Batman / The Shadow crossover
"Batman is a myth that transcends the comic book page and inspires us to achieve, while The Shadow is the cornerstone of so much of the pop culture and comics we see today" – Steve Orlando
A new mystery begins this April as DC Entertainment, Condé Nast and Dynamite Entertainment unite Batman and The Shadow for an epic crossover. Writers Scott Snyder (Batman and All-Star Batman) and Steve Orlando (Midnighter and Apollo, Justice League of America) along with artist Riley Rossmo (Batman, Constantine: The Hellblazer) introduce a new miniseries full of suspense, action and deadly intrigue.
This team-up of these well known vigilantes will surely appeal to fans, as Batman returns to his great detective roots, as he embarks on a quest to unlock the enigma surrounding the obscure Shadow. Steve Orlando also stated: "To bring together the World's Greatest Detective and the World's Greatest Mystery is an honor. Batman/The Shadow will pay tribute to legacies in comics and pulp fiction, as the two characters meet in a generations-deep conflict unlike any they've seen before, with a case that stretches back to the origins of time, and will redefine murder."
In the six issue miniseries, murder has come to Gotham and Batman discovers a trail of evidence that leads to a suspect by the name of Lamont Cranston, however it turns out the man has been dead for over fifty year. As Batman attempts to unravel the enigma surrounding Cranston's life,  but the mysterious Shadow will do everything in his power to stop him from learning too much. Below is a Batman/The Shadow crossover from an issue published in 1973.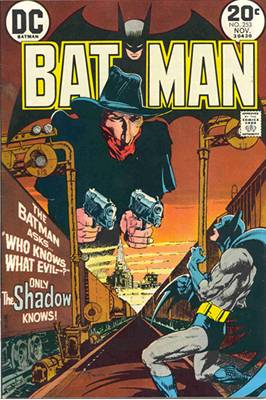 Batman/The Shadow #1 from Snyder, Orlando and Rossmo will debut April 26, 2017.