Darth Maul #1 is a new Star Wars comic from Marvel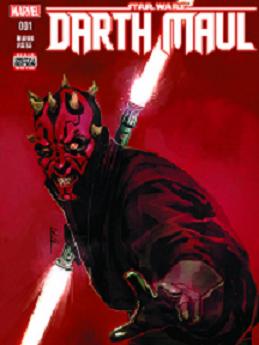 A stand alone Darth Maul comic publication will begin in February. Star Wars The Clone Wars and Rebels have elaborated on the Dathomirian warrior's survival after the Phantom Menace and subsequent journeys. This new title will explore the events of Darth Maul's life before meeting Obi-Wan Kenobi and Qui-Gon Jinn on Naboo. Writer Cullen Bunn (Deadpool, Monsters Unleashed) and artist Luke Ross (The Force Awakens, Spider-Man) will be delving into the characters past and showing the audiences how he became Darth Maul.
Bred on hate, fear, and anger, steeped in the ways of darkness, and trained to kill. Darth Maul's time as apprentice to Darth Sidious has long been cloaked in shadows, but at last we will reveal his tale of revenge. This will be a story of rage unleashed as Darth Maul prepares for his first encounter with the Jedi.
Five episodes are being published in this Marvel Comics mini-series. Darth Maul #1 will be released on February 1st.