Dark Souls: Comic adaptation
The Dark Souls video game produced by Bandai Namco (Dragon Ball and Tekken) is to be converted into a stand alone comic book series in April. Namco released the development rights to their classic role playing game and the creative team at Titan Comics are stepping to bring the "Dark Souls" concept to the comic page. Titan have announced that George Mann (Doctor Who) and Alan Quah are the writer and artist team behind the new project.
George Mann said: "Dark Souls has a rich, original universe that's just begging to be explored in comics, and I'm honored to have the opportunity to delve in and tell some new stories within it". He continued: "It's a real thrill to be able to contribute to the mythology of the Hollows and their world".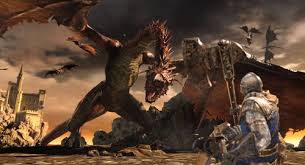 Bandai Namco are apparently still planning on producing new editions of the video game version, with the latest instalment "Dark Souls III" scheduled for launch in approximate synchronicity with the comic book. The role player game in "Dark Souls" and "Dark Souls II" transported the gamer to the quest of an undead human in an ancient civilisation who must battle with unholy, underworld monsters and scheming monarchs. A comic version of the thematic backdrop of Dark Souls sounds like potentially a substantial draw for comic fans. Release date: April 2016