Constantine returns in Hellblazer #1
DC's new Hellblazer comic follows on from Hellblazer Rebirth #1, released at the beginning of August, continuing Constantine's return to London from New York. Originally created by Alan Moore and Stephen R Bissette for DC in 1985, and published by the Vertigo imprint since 1993, this series returning to DC's main stable in 2013.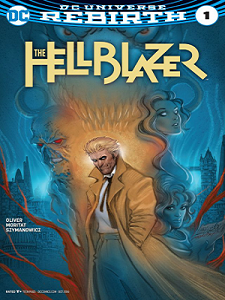 The Rebirth issue featured a major challenge that Constantine had to overcome on his arrival back in London, he is now receiving visits from former friends and familiar faces, including Swamp Thing – in town calling in a favor from Constantine. The protagonist himself, is still the downbeat, almost nihilistic character we have become used to, but this issue featuring plenty of dialogue and character interactions, suggests the series will bring out other emotions in Constantine, putting him in some complex situations.
The Hellblazer series has followed John Constantine in his world of magic and various supernatural conflicts in many series incarnations since his character's debut. Writers such as, Neil Gaiman, Garth Ennis, Jamie Delano, Paul Jenkins and Warren Ellis, have worked on the title over the years and the occult detective series is widely regarded as being influential in the development of the genre, particularly with it's contemporary setting. Hellblazer #1 is written by Simon Oliver, with art by Moritat and Andre Szymanowicz. There is also variant cover art by John Cassaday. The issue is on sale from August 24th.