Batman and The Flash Team Up in "The Button" in DC Universe Rebirth
Beginning this April, in "The Button," a new four part story arc is being established and will be unveiled in issues #21 and #22 of Batman and The Flash. The two greatest detectives in the DC Universe are uniting, courtesy of the Batman team of writer Tom King and artist Jason Fabok, along with Flash writer Joshua Williamson and artist Howard Porter.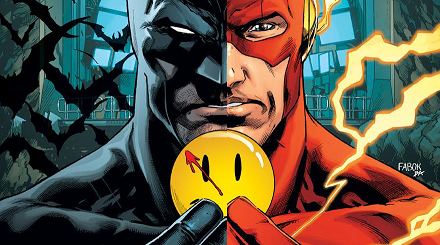 A blood-stained smiley face is found stuck in the Batcave wall and what begins as a simple investigation, becomes increasingly complex and potentially deadly as unwelcome third-party also wishes to discover the secrets of this mysterious button.
In addition to the standard covers on Batman and The Flash in late April and early May, each of the four issues will feature a special cover, all drawn by Jason Fabok. Don't miss the chance to find out more about the mysteries behind Rebirth when these issues hit your local comics retailer beginning April 19.