All New Guardians Of Galaxy #1 from Marvel Comics
On May 3rd Marvel published a new Guardians of the Galaxy comic, perfectly timed to coincide with release of the second volume of the movie series. According to Marvel, this comic series will see the gang on the 'biggest and weirdest misadventure' yet seen from this title, which has gained increased popularity since the first movie proved a hit with audiences.
The series kicked off with the guardians attempting the biggest heist in their history, leaving Star-Lord and company blasting their way across the galaxy with the Nova Corps in pursuit of them. They also found themselves caught in a war between The Collector and The Grandmaster. Amidst the chaos, we saw character arcs such as, Drax swearing off violence, Groot being unable to grow any bigger and a mystery involving Gamora in search of something yet to be revealed.
This new series is written by Gerry Duggan, with art by Aaron Kuder, who has also provided the cover art. There are several variant covers available, from artists: Jeffrey Veregge, John Tyler Christopher, Leinil Francis Yu and Skottie Young. This series will be releasing two issues every month and Marvel are promising it will be action packed. In an interview with Comicbook.com, writer Duggan was quoted as saying:
"We want to put these guys into new cosmic situations…even though they're functioning well as a team, they're each looking forward to handling their own business, so they might be feeling gravity's pull apart. They have a lot going on individually and I'm really excited to explore that."
Duggan also praised the work done by Brian Michael Bendis, Dan Abnett, Andy Lanning and other collaborators in the Guardians of the Galaxy universe, especially in terms of establishing the characters and therefore allowing writers such as himself to tell further stories without having to re-introduce the likes of Star-Lord, Rocket Raccoon and co.  Artist Aaron Kuder, in the same article, commented on the comic's visual style, stating:
"I'm trying to lean more visually towards space opera… giant sweeping landscapes that you just would never see. The beauty of the comic book medium is that you don't have a special effects budget. That is never more crucial than when you're dealing with the space stuff. That's the thing that's really so fun for me."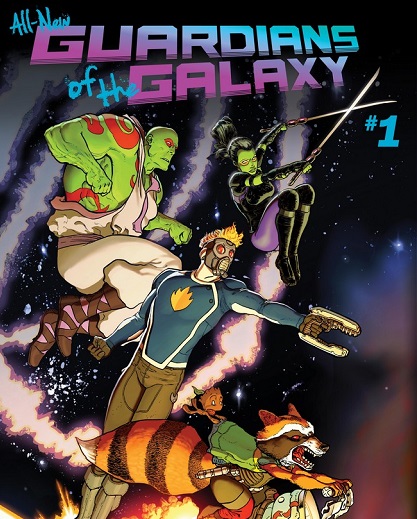 All New Guardians of The Galaxy #1 is out from May 3rd, published by Marvel Comics. Check out Marvel.com for more details.