America Chavez to headline own Marvel comic series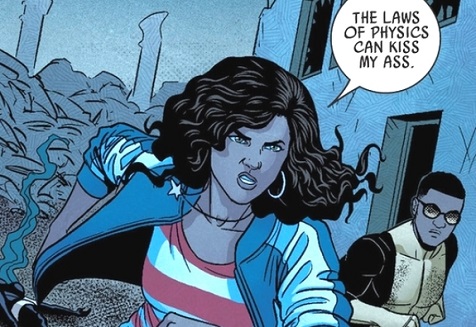 America is starring in her own solo comic series, this coming after becoming a member of the Young Avengers and the Ultimates. This title from Marvel will shine a spotlight on the high-octane adventures of America Chavez as the new leader of the Ultimates team. America Chavez debuted in 2011, created by Joe Casey and Nick Dragotta.
The new solo series is written by award winning young adult novelist Gabby Rivera, who is well known for Juliet Takes A Breath and illustrated by Joe Quinones (Avengers, Spider-Man). What can we expect to be happening? America Chavez has now officially claimed her place as the preeminent butt-kicker of the Marvel Universe. But while leading a team of heroes and punching out bad guys is great, it doesn't really leave much time for self-discovery.
Even super-powered teenagers need a personal life and a little fulfilment. She decides on going to college, which opens whole new doors in her life. But, she still has the responsibility of stopping an interdimensional monster and shutting down a pesky alien cult that's begun worshipping her exploits.
America #1 will be published by Marvel Comics on March 1st.