Adam Strange/ Future Quest Annual #1 from DC Comics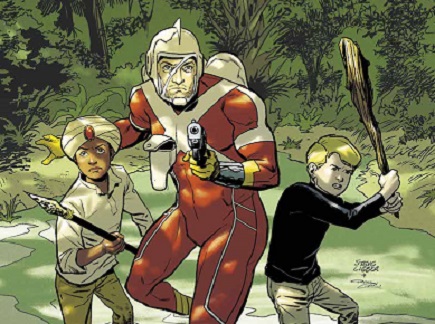 Marc Andreyko (Madhunter, Batman) and Steve Lieber (Detective Comics) are bringing us a new Adam Strange crossover series, immediately following on from the aftermath of the Death of Hawkman miniseries. That DC event teamed Adam Strange with old sparring partner Hawkman. In Future Quest, Adam Strange is transported across time and space into a whole different proposition, he is propelled through multiple dimensions and lands on Earth.
There are more details on what we can expect to be happening. Adam Strange in a desperate bid to find his way home teams up with a scientist Dr Quest and his adventurer son Jonny Quest, Hadji and Race Bannon. They have a plan but it's going to involve a dangerous trek through Dino Boy's Lost Valley of prehistoric threat. Jonny Quest of course was first introduced to the world in the eponymous 1960s era television show. We are about to experience a bunch of other classic Hanna Barbara characters in DC comics.
The Death of Hawkman series, also scripted by Marc Andreyko, (Oct 2016 to March 2017) worked well, so this series should deliver. Cover art duties are supplied by Evan "Doc" Shaner, who has previously worked on the Adventures of Superman and Convergence: Infinite Earths.
The backup feature is worth taking a look at. Top Cat breaks out of prison and ends up falling through a cosmic portal to planet Earth. Expect the Batman to make an appearance.
Adam Strange/ Future Quest Annual #1 is published on March 29th by DC Comics.