Titan Comics launch Warhammer 40,000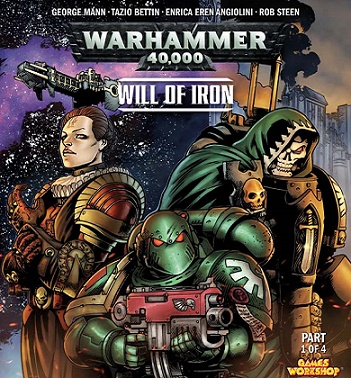 Titan Comics are launching Warhammer 40,000 #1, in which we are invited to follow the exploits of the Dark Angel Space Marines. This is a brand-new series which is being adapted from the tabletop game by Games Workshop. This marks another foray of Titan Comics into converting popular fanbase games from other media, in April the publisher began circulating a comic series inspired by the Dark Souls video game. George Man is scripting the new project, he was previously attached to the Dark Souls adaptation.
"After a thousand years of warp storms, the Calaphrax Cluster has re-opened to the universe, and Baltus and his fellow Dark Angel Space Marines join a strike force sent to explore and secure the region, in search of forgotten artefacts and ancient technology! But the forces of Chaos are never far away… and a shameful Dark Angels secret from the Horus Heresy soon leads to a new front in the war!"
The art work is illustrated by Tazio Bettin (The Order of the Forge, Independence Day) and the colorist is Enrica Eren Angiolini (Doctor Who). The first issue will be accompanied by a number of variant covers, by artists such as Tazio Bettin, Fabio Listrani, Boo Cook, John McCrea and Nick Percival.
The first season is entitled 'Will of Iron', Issue #1 is available from October 12th.