The Visitor is a new Hellboy spin-off from Dark Horse
In The Visitor, a new title scheduled for February 2017, we discover more about a mysterious and unexplained event from Hellboy's past. Ever wonder about the back story of the aliens from Hellboy: Seed of Destruction and the alien assassin left behind. This five episode mini-series will explore that very mystery,
Back in Hellboy: Seed of Destruction we first learned about the existence of the aliens, well for the first time in the new series it will be explained who the aliens are, and what the alien assassin was doing on earth for 50 years. Mike Mignola, the original creator of Hellboy, and co-writer Chris Roberson have decided that this is the moment for all to be revealed about this early episode in Hellboy's history.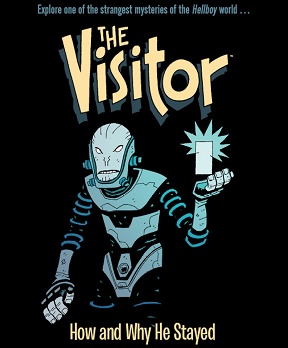 The series will be a first hand look at the alien's perspective. Chris Roberson has discussed the concept in more depth, "Stranded on Earth for more than half a century, an alien assassin observes humanity's capacity both for compassion and for destruction. We see history unfold through his eyes, just as the experience of living among humans changes who he is."
Artist Paul Grist and colorist Bill Crabtree are designing the art work for the series. The Visitor: How and Why He Stayed is being published by Dark Horse Comics and begins on February 22, 2017.