Mighty Captain Marvel Volume 1 continues the Civil War II aftermath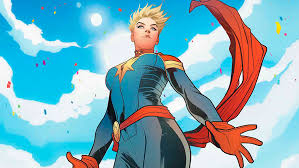 Carol Danvers returns as Captain Marvel, she has been to the depths of space and back and now has to deal with her newly found status as a famous superhero. Volume 1 is written by Margaret Stohl, who is taking over from Kelly Sue DeConnick, who introduced Danvers in the Captain Marvel reboot. Stohl is a New York Times best-selling author, whose previous writing credits include Beautiful Creatures and Black Widow: Forever Red. The art is by Ramon Rosanas and Emilio Laiso.
Issue #0 is out now, with issue #1 arriving very soon, not much about the plot for the next edition has been revealed, but we know in this series we is can expect dream sequences featuring Iron Man and Natasha Romanoff, as well as flashbacks including several members of the Danvers' Clan, Stevie Danvers and Joes' Sr. and Jr. The Volume focuses on the aftermath of Civil War II and the decisions Danvers made during the internal strife that rocked the superhero world, which continue to affect Captain Marvel and make her a controversial figure.
Mighty Captain Marvel issue #1 is in comic stores from January 18th.