DC's All Star Batman #2 Review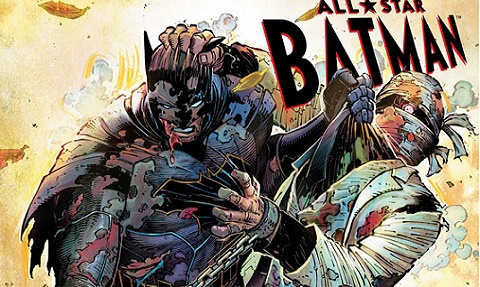 The second instalment of All Star Batman began immediately where the last issue left off. Batman must travel with a captive and hand-cuffed Two-Face to a mysterious location outside Gotham City, the plan is to cure Harvey Dent of his gangster alter ego "Two Face" once and for all. This distinction however comes with a deadly flipside, a conniving Two-Face has informed the criminal underworld of Gotham that he is willing to reveal to the world all his knowledge about their dastardly secrets. Now, in this odd couple-esque road trip Batman must transport Harvey out of Gotham, with hoards of criminal arch enemies desperate to stop him.
Issue two commences with Batman and Harvey on top of moving train , locked in an intense battle against Killer Croc and other villains. It seams that every assassin, bounty hunter and goon from Gotham is on their trail, including Amygdala, King Shark and Copperhead. The Penguin and his cohorts decide to combine their resources to recruit a hitman, KGBeast. Meanwhile, Alfred and Duke Thomas find out about Harvey Dent's scheme, and Batman's latest protege Duke Thomas decides Batman need his services. This cut-away section becomes a secondary story, as we follow the continuing ascension of the latest sidekick of the Caped Crusader.
Scott Snyder and artist John Romita Jr., have certainly created an entertaining tale. The countless personalities making lengthy and cameo appearances could become prohibitive, but Snyder avoids that pitfall and the narrative remain seamlessly fast-paced and never becomes cumbersome. A difficulty in the longevity of super-hero characters pose is how to keep the characters modern and contemporary, but Snyder's Batuniverse is bright and energetic. This is complimented perfectly by John Romita Jr's visceral imagery, the over the top fight scenes and side splitting body blows leap off the page.
The "My Own Worst Enemy" story arc continues in the next edition. More villains from the Batuniverse will no doubt turn up, as the road trip forces the duo of Batman and Two Face to encounter an ever increasing array of enemies. All Star Batman #3 will be published on October, 19th.