Alan Moore's Cinema Purgatorio Issue #4 from Avatar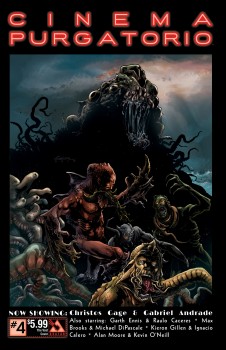 Alan Moore's new anthology series, Cinema Purgatorio has reached four editions. The ground-breaking series is a collection of surreal and dark monster tales, introduced by Alan Moore. The anthology has brought together a supreme group of talented writers and artists, like Max Brooks, Garth Ennis, Gabriel Andrade, Michael DiPascale Kieron Gillen, Raulo Caceres and Christos Gage. The illustrations are in a moody, noirish black and white style, which perfectly captures the imagination of the industry's most acclaimed writers. The Cinema Purgatorio titles continue the work of celebrated writer Alan Moore. Here are the five titles presently in circulation.
Cinema Purgatorio – Alan Moore is scripting this series with illustrations by Kevin O'Neil. A giant King Kong-esque gorilla is on a rampage against huge beasts and movie studios, but he is perturbed by a moral quandary. This satirical and surreal tale could only be imagined by a writer such as Alan Moore.
The Vast – Giant monsters are following a detachment of soldiers as they attempt to evacuate from an area already overrun by an Apex creature. Christos Gage and Gabriel Andrade have conjured an intriguing world where humans interact with monsters.
A More Perfect Union – In this Civil War saga of a group of deserters on the frontline are confronted with enormous bug creatures. This authentically crafted period story line was created by Max Brooks and Michael DiPascale.
Code Pru – A night shift nurse Pru has to extend her duties above and beyond what is normally expected as she encounters chest-bursting aliens. Written by Garth Ennis and art work by Raulo Caceres.
Modded – A monster tale set in the future. In a climate of fighting contests with monsters, learning how to train your daemon is an indispensable talent. Written by Kieron Gillen and illustrated by Ignacio Calero.
The fourth editions will be published in August by Avatar Press.