Dark Knight III The Master Race, episode #6
Dark Knight III "The Master Race" is a sequel to 2001's The Dark Knight Strikes Again, Frank Miller is returning to the same universe.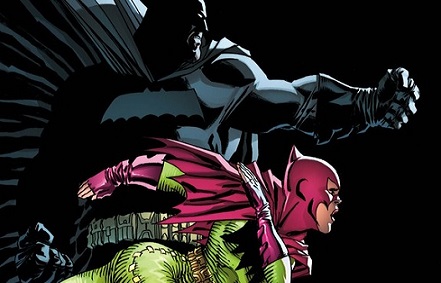 Aficionados of the less restrained Batman, with minimal compunctions about dispatching foes permanently, have been waiting for this latest instalment. There are a number of crossovers with other DC Universe Presents publications, Wonder Women #1, Green Lantern #1 and Batgirl #1. The fifth episode was published on June 29 and issue #6 is scheduled presently for a showcasing in August. Frank Miller's tale continues the action after the circumstances in the finale of Dark Knight Strikes Again. The aged Batman is presumed dead and former sidekick Carrie Kelley (Catgirl) has occupied the Batman mantle. A new dangerous presence is haunting Gotham City and the rest of the world, the Master Race. Restoring Kandor to its normal size may have been a bad idea. The Kryptonians apparently can envisage no reason not to take over control of earth.
Bruce Wayne/ Batman does fortunately eventually make an entrance, alive and well. A plethora of other superheroes make an appearance to fortify earth against the Kryptionians from Superman, the Flash to Aquaman. Lara, the daughter of Superman, is another principal cast member in the miniseries. In episode #5 the epic contest reaches a critical point with the superheroes uniting against Quar and the Kryptonians with some tricky manipulation of the weather. Will the earthlings be able to repel the invaders, stay tuned for issue #6?
The nour-ish artistic vision, synonymous with with Miller's work, again brings to life the Caped Crusader. Brian Azzarello is on board as co-writer and illustrators Andy Kubert and Klaus Janson are the other senior artists on the project. Eight episodes will be released in the franchise, according to DC Comics, with special editions also available. Frank Miller is considering scripting a forth Dark Knight miniseries, as yet not confirmed.
Episode #6 will be published in late August.